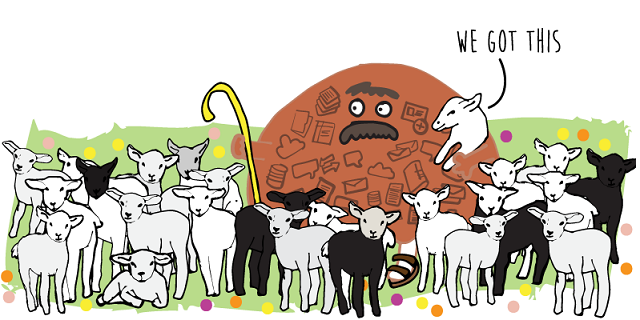 Reporting on CRM data is a huge piece of the data management puzzle. Being able to effectively filter, group, analyze, and report on your data is critical for decision-making across your whole organization.
Insycle makes it easy to drill down into your data to understand what you have in each field, analyze it, and share reports with others in your organization. Using Insycle, you can explore field values and unearth important stats, generate automated exports for important data slices, and drill down into individual records to gain additional context.
Let's explore how this works in Insycle.
Summary
With Insycle, you can use multiple modules to generate reports and metrics for your most critical CRM fields.
First, using the Grid Edit module, you can filter and export your data easily. Additionally, you can set up automated exports on a set schedule. So for instance, if you wanted to generate a report of sales rep assignments every Friday, you could do this in just a few clicks using Grid Edit.
Then, you can use the Group & Update module to gain a top-down view of the values contained in each field. For instance, you could view the number of contacts assigned to each sales rep and group them by their US state locations.
Filter and Export Data in Grid Edit, Automatically
The Grid Edit module makes it simple to slice, dice, and filter your data—then export it once or on a recurring set schedule.
First, you simply set rules for filtering your data. Insycle will filter the data down to only the records that you would like to analyze, and then you can export it. You can also schedule automated recurring exports. For example, you may want to export weekly information about your sales pipeline.
Let's look at how this works.
Step 1: Filter
Filtering and exporting data is handled in the Grid Edit module. Navigate there.
In Step 1, you filter our database down to only those records that you would like to edit and update, based on rules.
Insycle offers numerous pre-built templates that you can select at the top of the screen. We'll be using the "Missing or Invalid First Name" template for our example. This is a common use case—filtering, exporting, and reporting on data that requires enrichment to be useful.
However, you can also build custom templates using unlimited fields to filter for data in any field in your CRM. Our example is basic, but your filter could potentially be much more complex.
This is what our filter looks like:

This filters your CRM down to only the fields in your database that have a first name. Click the "Search" button and contacts that match your filter will show up just below the filter.
Additionally, you have the ability to choose what fields will be visible for each record that matches your criteria. Select the "Layout" tab.

Here, you can add or remove fields from the Grid Edit module.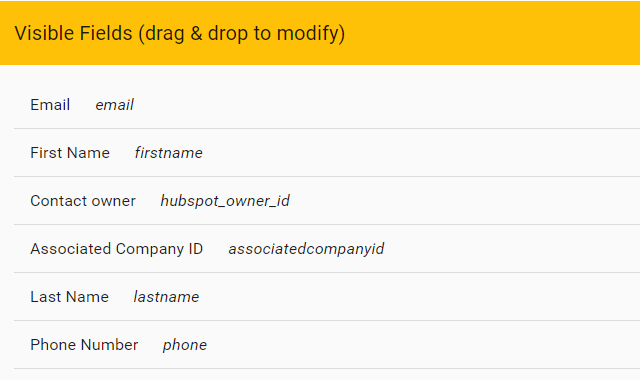 With your filter set, a preview of the fields that match this filter will be generated at the bottom of the screen. This allows you to dig deeper into each field to better understand the data that it contains.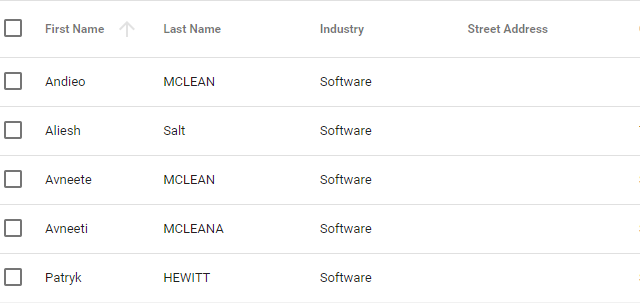 Here, you can view and select individual records for export using the checkbox next to the record.
Step 2: Export
Once you have your data filtered in the way that you would like, you can then export the data by clicking the Export button.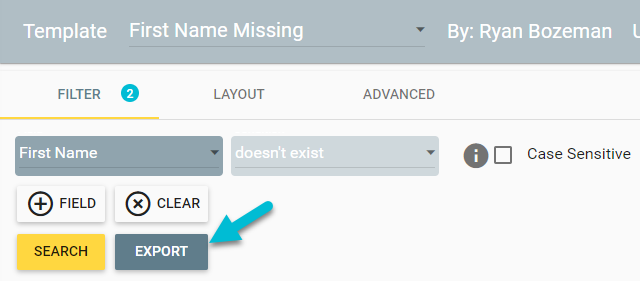 Once you click that, you'll be directed to a screen asking whether you want the export in a new file or in an existing file. Most often, you'll want to choose New File.
Click "Next," and you'll be taken to the Email screen. Here, you can add recipients for the export and provide additional context in your message.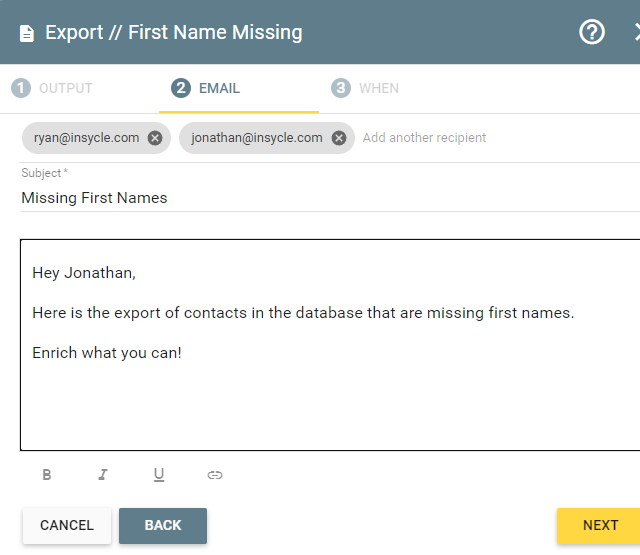 Last, you can choose "Run Now" or "Automate." If you choose the "Run Now" tab, your data will be exported one time, immediately. If you choose automate, you can set a regular set schedule for the export to be run and the report be emailed to you.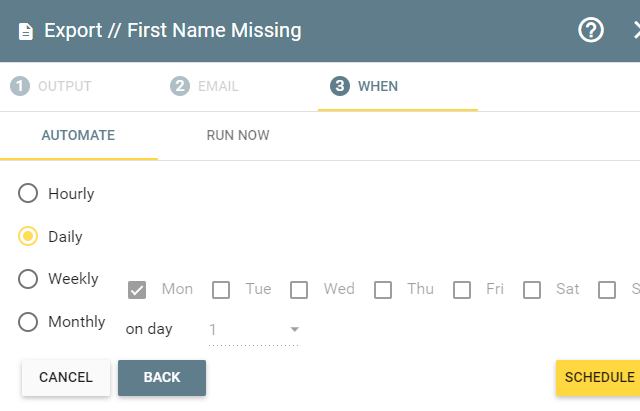 Here, you can choose for the export to run on an hourly, daily, weekly, or monthly schedule and be emailed to the correct people inside or outside of your organization.
Group and Analyze Field Values in Group & Update
The Group & Update module makes it simple to gain a solid understanding of the data contained in individual or multiple fields.
Simply choose the fields that you would like to group by, then Insycle provides stats and metrics for each individual bucket of data. You can then select buckets to drill down into the records contained within it, viewing any field by altering the Layout.
Let's look at how this works.
Step 1: Pick a Field to Group By
Select the Group & Update module from the main navigation menu on the lefthand side of your screen.
Then, in Step 1, we tell Insycle what field we would like to group by and analyze. In our example, we'll be grouping and analyzing the Industry field.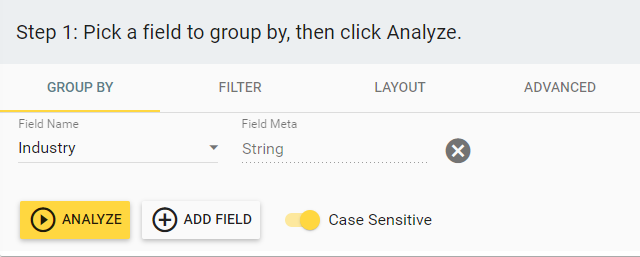 Once your field is selected, click the Analyze button. A preview of your data will be generated at the bottom of the screen in the Record Viewer.
This provides you with all of the values contained within this particular field, along with a count of how many times we appear. In the above example, we can see that the most common Industry among our contacts is Home Services.
If you select one of the checkboxes next to a value, you can drill down into the individual records contained within that bucket for additional context and analysis. The individual records will show up in a second Record Viewer, just beneath your field values.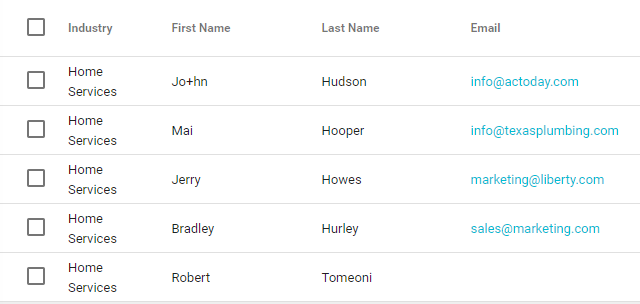 It is also important to note that you are not limited to grouping and analyzing by just one field. You can use multiple fields.
You can group by additional fields by clicking the Add Field button, then click the Analyze button to see the results in the Record Viewer, which will group records based on multiple fields.
Here is what the results would look like if we group by both Industry and State.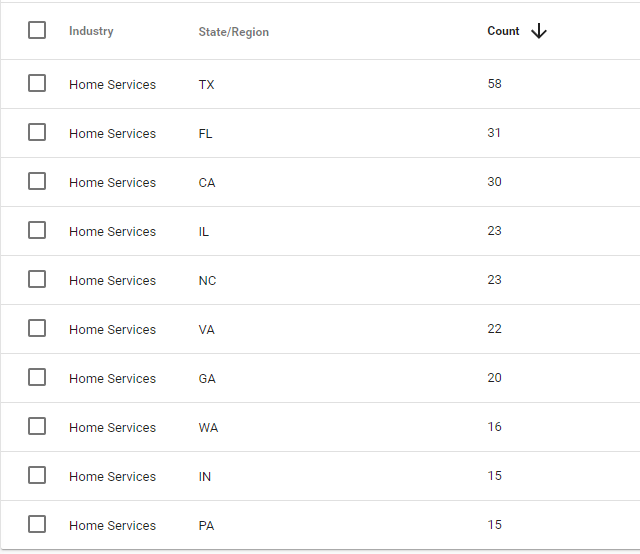 Additionally, for integer and number-based fields, you will receive additional metrics. For example, if we were to group by Deal Owner and Deal Amount, you receive additional information such as the minimum, maximum, average, and total deal amounts generated by each Deal Owner.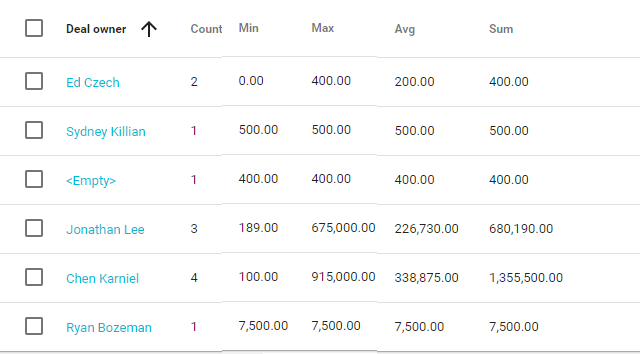 Just as with a single field, you can select the checkboxes here to drill down into the individual records contained within each bucket.
If we select "Chen Karniel," we will see all deals assigned to her, along with the deal stage of each.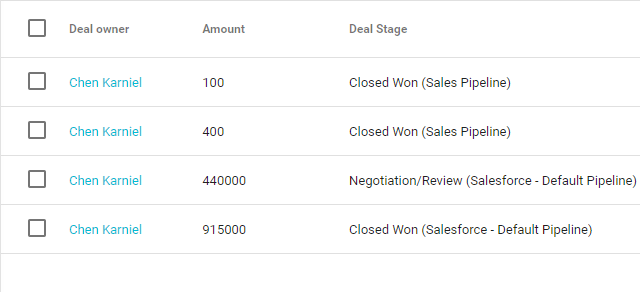 You can edit the fields that show in the Record Viewer in the Layout tab of Step 1.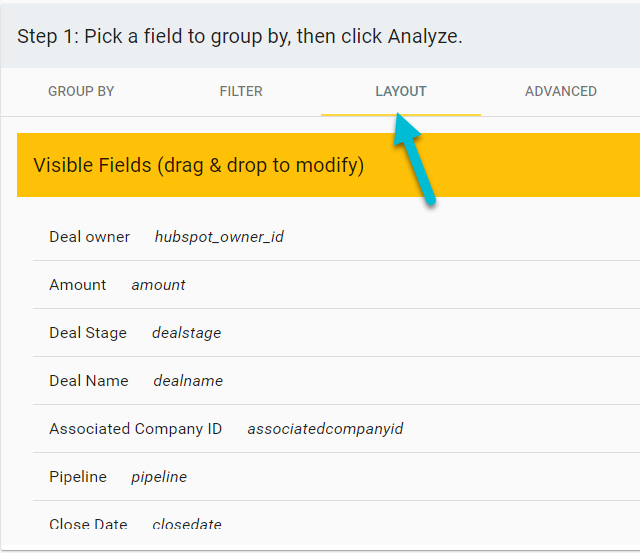 Use the Group & Update module to group and explore any field in your database and gain a better understanding of your data. Then, by sharing the URL in the address bar, you can share this template with any Insycle users on your team easily.
If you have bulk updates or bulk deletions that you would like to do, you can use Step 2 to bulk update the selected records.
Automation
You can set up ongoing data maintenance automation with Insycle on the module level, using Recipes, or integrating with Workflows. You can view all scheduled automations on the "Automations" page on your dashboard.
Audit Trail and History
The Activity Tracker lets you review all changes made through Insycle. At any time you can download a CSV report of the operation and records affected.
Additional Resources
Related Blog Articles
Related Help Articles
Additional Resources