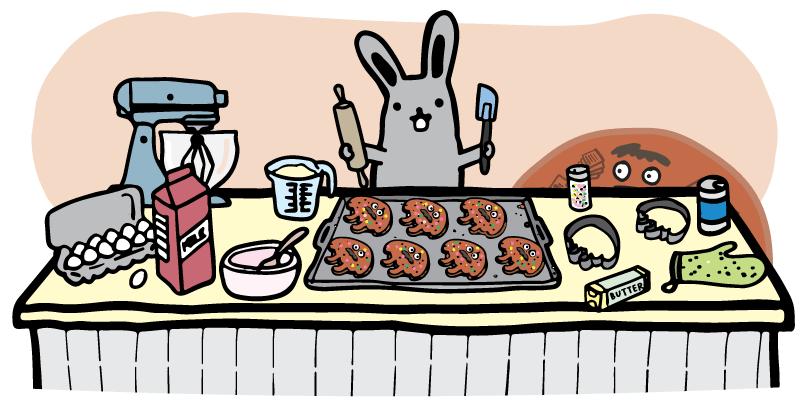 Having standardized deal names is critical for improving the speed at which your sales reps act and making your database more searchable on the whole. Default names for deals inside most CRMs are basic, generic, and hard to find when you need them.
Insycle makes it easy to standardize deal names, pulling important data from multiple fields to create a deal name that is searchable and descriptive.
Summary
Standardizing deal names using values from other fields is simple with Insycle.
First, you filter your deals down to those that you would like to standardize. For many, this will be every deal. Then you set up your functions in Step 2 to pull data from other fields, and re-write the deal name.
Then, your deals are standardized and consistent so that they are more searchable and identifiable within your CRM. You can schedule automation to ensure that your deal names are regularly updated.
Step 1: Define Filter
First, make sure that you have the "Deals" object selected from the top of your screen.

With Deals selected, select the "Standardize Deal Name" template. This template pulls data from several fields. You may be able to use it out of the box, but either way, it gives you a good starting point.
You will also see the "Negate Regex" function load in the filter for the "Deal Name" field. This regex tells Insycle to include all deals in the CRM.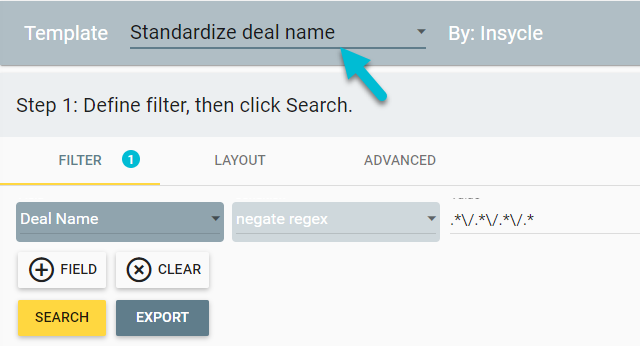 You can customize this filter as you see fit.
Click the Search button. In the Record viewer at the bottom of the screen, you will see all deals that apply to your filter.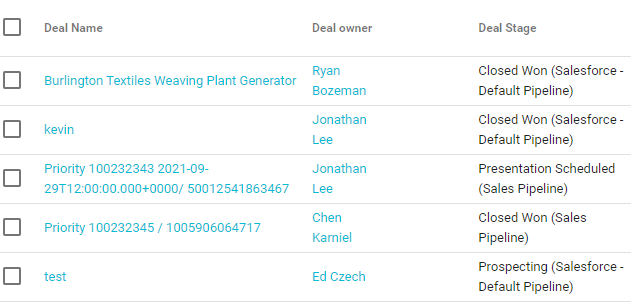 To change the fields that show in the Record viewer, click the Layout tab in Step 1.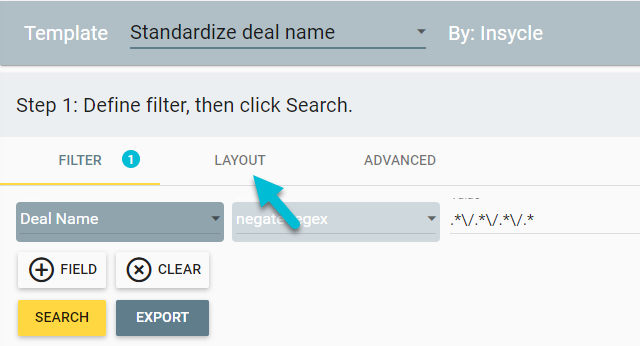 Now we will use functions to rewrite our deal names.
Step 2: Pick Fields, Apply Standardization Functions
When you select the "Standardize deal name" template, a list of functions automatically loads in Step 2.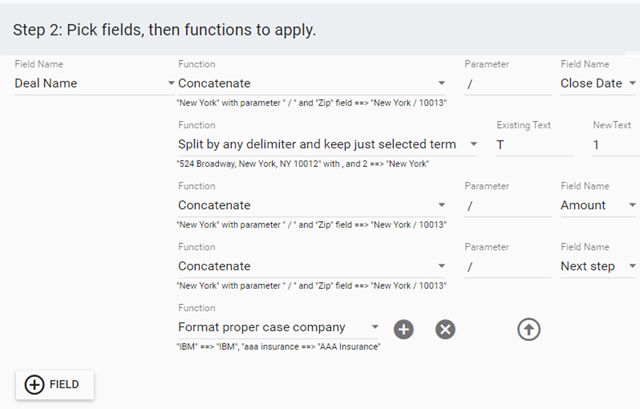 This list of functions uses the concatenate function to pull data from a variety of fields—Close Date, Amount, and Next Step—and rewrite deal names using that data. Company names are also being properly formatted for proper capitalization at the end of this list of functions.
The "/" parameter that you see helps to separate the different values that are being pulled from one another to make the deal name readable.
Here are some examples of how deal names would look after running this template:
| | |
| --- | --- |
| Deal Name Before | Deal Name After |
| United Oil Emergency Generators | United Oil Emergency Generators / 202212-16 / 440000 / Nurturing |
| United Oil Plant Standby Generators | United Oil Plant Standby Generators / 2022-12-16 / 675000 / Negotiating |
| United Oil Refinery Generators | United Oil Refinery Generators / 2022-12-16 / 915000 / Contract |
You can edit the fields if there are other fields that you use in your deal names.
Step 3: Choose Preview Mode or Update Mode
With your filter and functions in place, we can now run the operation to rewrite deal names using values from multiple fields.
First, click the Review button.

Then you choose whether you want to run in Preview Mode or Update Mode.
Preview Mode generates a CSV that allows you to see what the changes would look like in your database but does not update live data in your CRM. Update Mode pushes the updates live. It is often a good idea to run in Preview Mode first, to ensure that your template is working as expected. Then you can switch to Update Mode.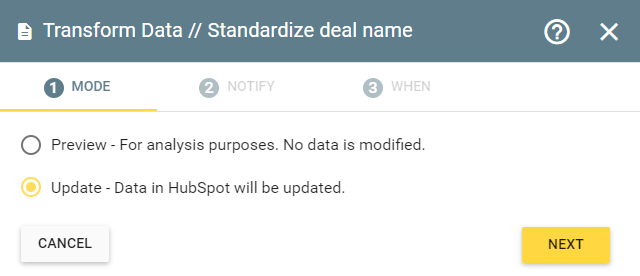 Make your selection and click the Next button.
Then, you are taken to the notification screen. This is the email that is generated and will have a CSV attached showing the changes. You can add colleagues and additional context here.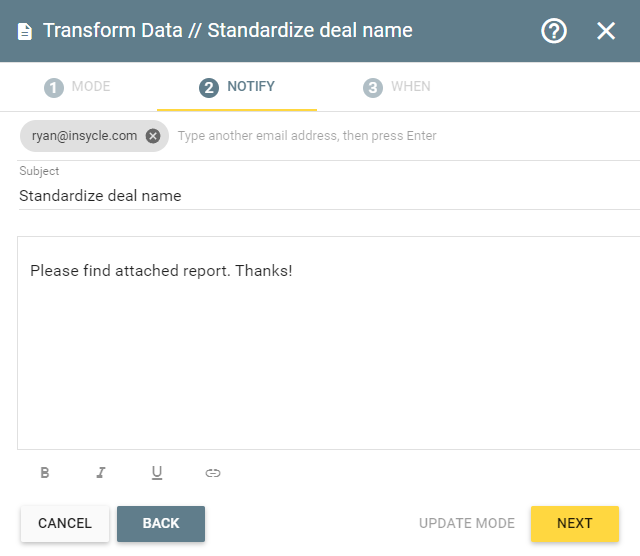 Then, you can choose to have the deal standardization template run one-time immediately, or on a set regular schedule.
In the Run Now tab, you have control over how many records you can run the template for.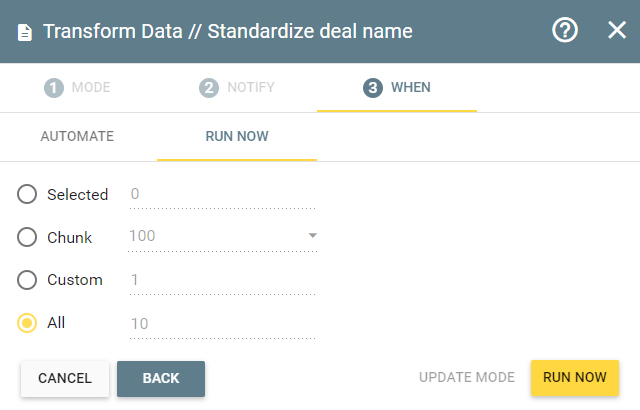 On the Automate tab, you can schedule this template to run on an hourly, daily, weekly, or monthly basis.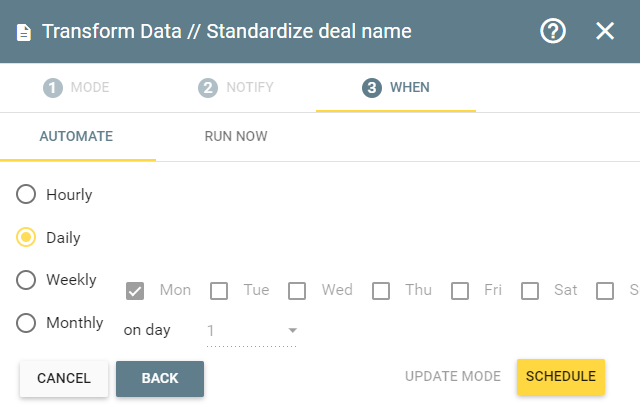 By automating, you can ensure that your deal names are always being consistently rewritten and updated to reflect changes as deals move through the pipeline.
When the operation runs, you'll receive the CSV in your inbox showing the changes that were made.

Preview Changes Before They Go Live
You can preview the changes that you are making to your data before those changes are pushed to your live database. When you run select modules in Insycle, you have the option of choosing between Preview Mode and Update Mode once you click the button.
Automation
You can set up ongoing data maintenance automation with Insycle on the module level, using Recipes, or integrating with Workflows. You can view all scheduled automations on the "Automations" page on your dashboard.
Audit Trail and History
The Activity Tracker lets you review all changes made through Insycle. At any time you can download a CSV report of the operation and records affected.
Additional Resources
Related Blog Articles
Related Help Articles
Additional Resources