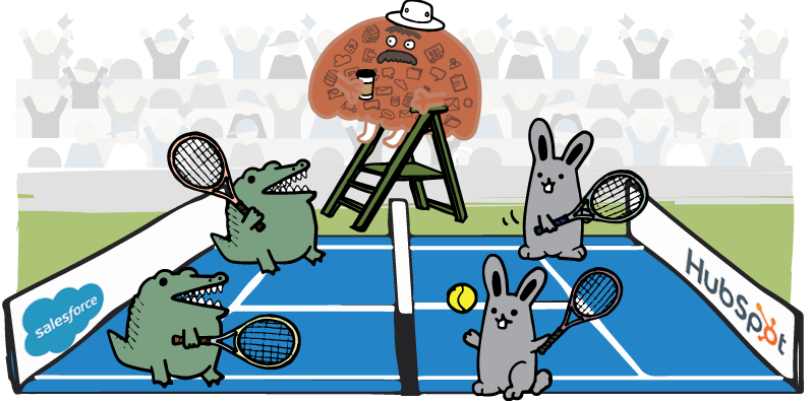 Deduplicating across Salesforce and HubSpot while the sync is active is incredibly complicated.
Often, attempting to deduplicate contacts in both Salesforce and HubSpot leads to the sync breaking and a complicated manual process for figuring out what happened, what updates need to be made to records, and how to ensure the records stay synced moving forward.
You have to ensure that all available duplicates in both platforms are merged down to the same "master record" and that those records remain synced throughout the process.
Step-By-Step Guide
Overview
Insycle makes it easy to deduplicate records across Salesforce and HubSpot while ensuring that the sync remains active.
To do this, you create a "Deduplication Master Record" field in Salesforce and HubSpot to tag the master record. Then, you deduplicate both platforms using Insycle, merging down into the tagged master record in both Salesforce and HubSpot.
This allows you to ensure that both platforms merge down into the same record, maintaining the sync.
Automation
You can schedule your Merge Duplicates templates to run on an automated, set schedule.
You can schedule your template directly in the Merge Duplicates module. You do this by clicking the Review button at the bottom of the module page.
Then, you go through a three-step process to run the operation. In the third step, you can choose the "Automate" tab, and schedule your template to run on a set schedule.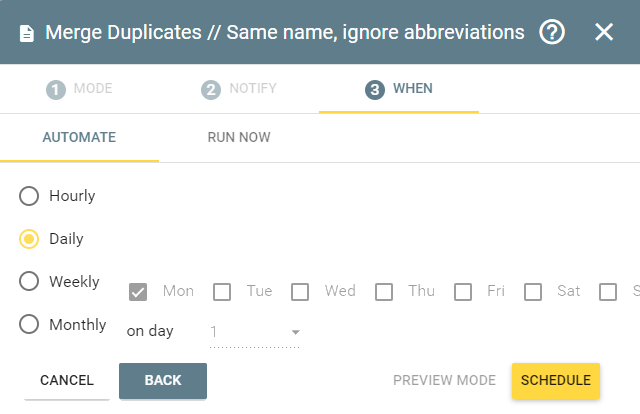 You can also schedule deduplication automation using Recipes, which are a collection of templates run together. On the HubSpot side, you can also automate using Insycle Recipes and HubSpot Workflow Automation. You can view all scheduled automations on the "Automations" page on your dashboard.
Learn More About Deduplication Automation:
Preview Changes Before They Go Live
With Insycle's Merge Duplicates module, you can preview the changes that you are making to your data before those changes are pushed to your live database. That way, you can check to ensure your deduplication template is working as expected.
To learn more, see Deduplicate HubSpot & Salesforce While Keeping the Sync Active.
Additional Resources
Related Blog Articles
Related Help Articles
Additional Resources