Purging bad and outdated data from your CRM is an important part of a data maintenance strategy.
By clearing fields in bulk with Insycle and removing bad and low-quality data, you can:
Keep your teams focused on the more important data that you've collected
Improve your ability to search and segment data
Remove outdated and low-quality data
Improve personalization
Insycle makes it simple to identify and remove garbage and low-quality data, lifting the accuracy and quality of your database.
Process Summary
Filter your data down to the records you would like to update.
Tell Insycle which fields you want to clear values from
Preview your bulk clear operation.
Clear values from a field in bulk.
Step 1: Filter Your Records
To clear values in bulk, we will use the Bulk Operations Module. Navigate there.
First, select the record type—contacts, companies, deals, or comparable record type in your CRM—so that you can bulk clear your specified field. Select this at the top of the Bulk Operations module screen.
For the example in this article, we will be updating Contacts.
In Step 1, we tell Insycle how to filter your database down to the records you want to clear values from. 
Here is a common example. We'll use the "Clear Role-Based First Name" from the Templates selection dropdown.

Often, companies want to remove role-based emails from records—like info@domain.com, sales@domain.com, or marketing@domain.com. Then, they may use that role as the first name—such as having a first name of "Marketing" or "Info." This template allows us to clear errant first names so that you can enrich meant, or avoid calling them by their department in communications.
In Step 1, we set our filter which helps us to identify these records.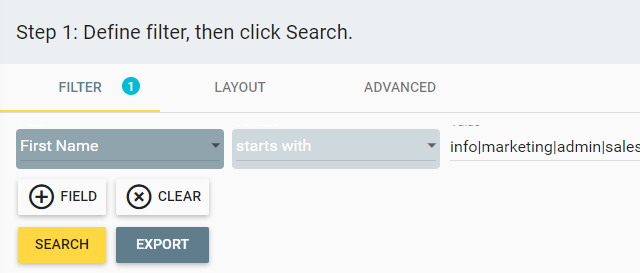 The filter is simple. We use the "First Name", and use the "Starts With" operation. Then, we define the role-based usernames that we want to delete. The default value looks like:
"Info|marketing|admin|sales|partners|accounts|help|support|itsupport|helpdesk|itadmin|contact|security|webmaster|mail|email|office|itdept|techsupport|infosec|technology|netadmin|postmaster|test|fake|asdf|dummy|abc|spam|system|finance|abuse|billing|compliance|devnull|dns|ftp|hostmaster|inoc|ispfeedback|ispsupport|list-request|list|maildaemon|noc|no-reply|noreply|null|phish|phishing|privacy|registrar|root|sysadmin|tech|undisclosed-recipients|unsubscribe|usenet|uucp|www"
You can use the pipe key (|), located just above "Enter" key on your keyboard to add additional terms to the filter, as above.
With this filter in place, nearly all relevant role-based first names will be identified by the filter. By clicking the yellow Search button in Step 1, we'll be able to preview the contacts identified using this filter.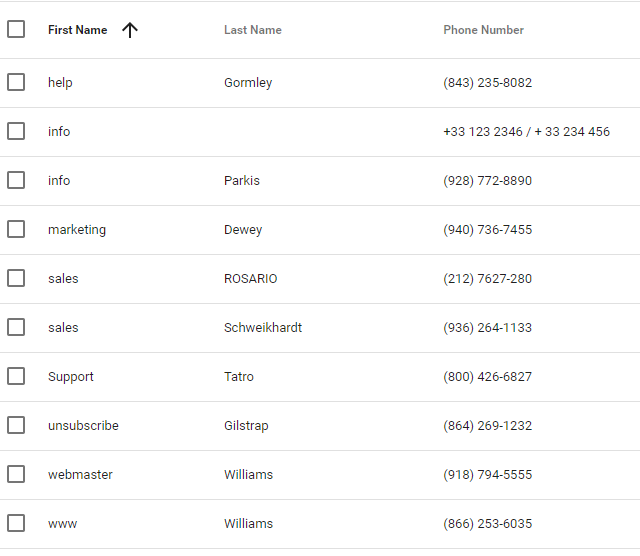 You can edit the fields visible in the Record Viewer by using the Layout tab in Step 1.
When you change the filter, you need to click the Search button again to reload this preview.
Step 2: Setup Bulk Clear Settings
In Step 2, we want to ensure that you work from the first tab, "Update."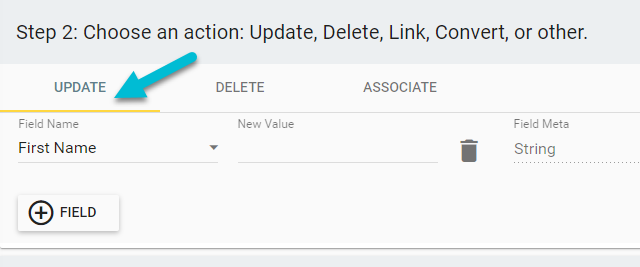 Here, you tell Insycle what to update the field that we have filtered with.
For our example, we will select the first name field, and tell Insycle to update existing data with a New Value that is blank. This field does not and should not contain any whitespace.
This replaces existing role-based first names with a blank field, clearing the data.
Then, Insycle tells you what type of field this is in the Field Meta. This is an informational addition because different field types, such as picklists, have their own considerations.
You can also add additional field updates here using the Field Button. For example, you might want to remove the role-based first names, and assign them to someone who will examine these records and update them.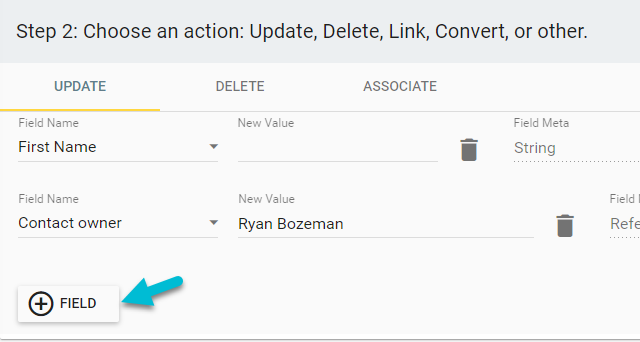 Step 3: Preview, Update, & Automate
Now, with our filter and update action in place, we can run the bulk operation to clear the First Name field from our selected records.
When running the Bulk Operations module, especially the first time, it is a good idea to run in Preview Mode. This allows you to view the changes to the data in a CSV file before the updates are pushed to your database. You can check to ensure everything is working as expected and make any necessary changes before pushing the updates to your live database in Update Mode. 
You can do this by clicking the Review Button in Step 3.

A popup will appear. Here, on the first screen, we can select the Preview Mode or Update Mode,
Preview Mode runs to process and makes the changes reviewable in a CSV file, but does not update your live CRM database.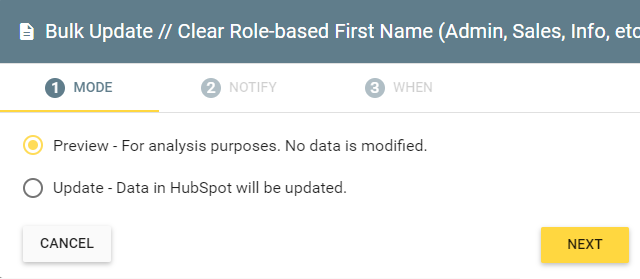 If you choose Update mode, the data changes will go live in your CRM when the operation is processed.
Then click the "Next" button.
In Step 2 of the Review process, you can choose who receives the generated report. Your email will automatically be added to the list but you can add other collaborators here.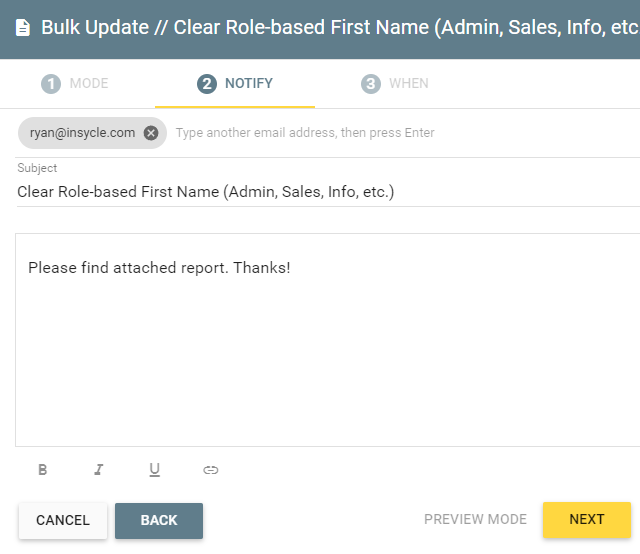 Once finished, click the "Next" button.
In Step 3, you can choose whether you would like this operation to run one time, or continuously. There are two tabs on this screen—Automate and Run Now.
When you select the Run Now tab, you are choosing to run the field update operation one time, immediately. You can run it on selected records, on a small chunk, or on all of the fields that met the criteria.
Alternatively, you can schedule this module to run on a set, recurring basis in the Automate tab. Here, you can schedule this operation to run hourly, daily, weekly, or monthly. When scheduled, the module will automatically run on your desired schedule and email the reports after it has run.
You can view all scheduled automations on the "Automations" page on your dashboard.
Frequently Asked Questions
Can I restore values once they have been cleared?
Not automatically. But Insycle generates a CSV detailing all changes, showing you relevant data before and after the update. You can use this CSV file to re-import the data back into your database if needed.
How do I tell Insycle to delete data in a field?
Using the Update tab, select the field that you would like to update, and leave the New Text input blank.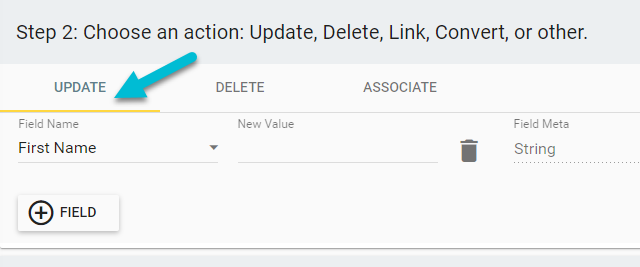 Audit Trail and History
The Activity Tracker lets you review all changes made through Insycle. At any time you can download a CSV report of the operation and records affected.
Additional Resources
Related Blog Articles
Related Help Articles
Additional Resources