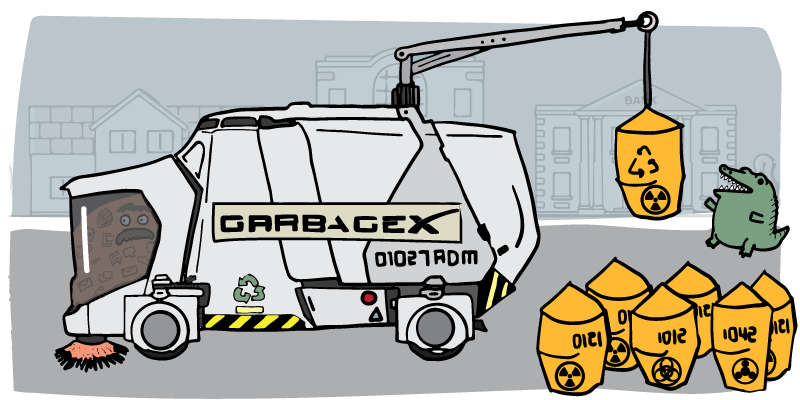 Purging bad, low-quality, and useless data from your database is an important part of maintaining your CRM. They can balloon CRM costs, lower email open rates, and harm your sender reputation. Clutter makes it difficult for teams to filter, analyze, and utilize your CRM data.
Insycle makes it easy to declutter your CRM and purge low-quality data, in bulk, using flexible rules. You can purge bad data form your CRM automatically, on a set schedule, and avoid arduous manual tasks.
With Insycle's Bulk Operations module, you can bulk delete bad data and lift the accuracy and quality of your CRM data.
How It Works
There are many types of low-quality data that can be identified and removed from your database using multiple Insycle modules.
You can use the Health Assessment to track invalid and missing data in your database. Then use the Bulk Operations module to delete records that are not useful—such as records missing an email or other vital information that you need to engage with them.
Insycle will delete the record in full. You can access the deleted data in the Activity Tracker and re-import the partial records if needed.
Summary
First, use the Customer Data Health Assessment to identify and track records for purging. Then, click the "Fix" button to be taken to the appropriate module with the appropriate template loaded. You can also use the Bulk Operations module to identify and purge low-quality data using advanced rules.
Track Purgeable Data In the Customer Data Health Assessment
Your best tool for quickly identifying or tracking low-quality and purgeable data is your Customer Data Health Assessment.
The Customer Data Health Assessment uses templates from Insycle modules to track common data issues in your CRM. It comes pre-loaded with templates tracking many of the most common issues. You can also load your custom templates into the Health Assessment to track data issues that are unique to your organization.
A graph of tracked issues appears on your main Insycle Dashboard screen. You can open the Health Assessment by clicking "Open Report" here, or selecting it form the main navigation menu.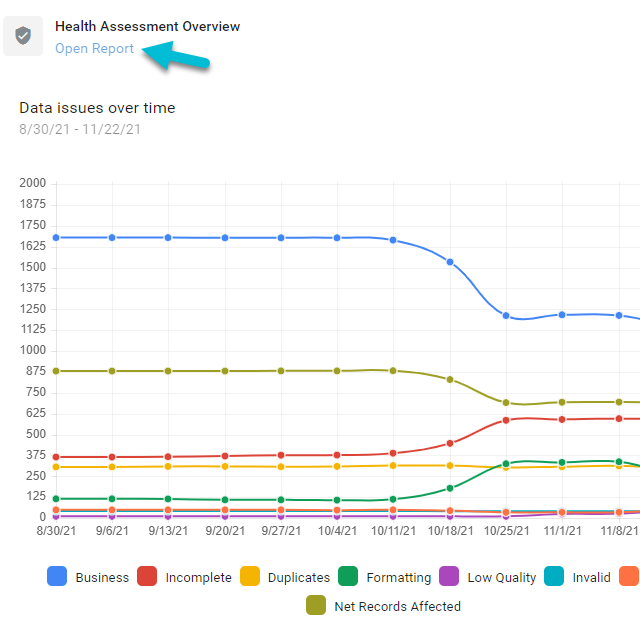 At the top of the Health Assessment pages, you'll find a list of all of the issues found in your database. These are automatically categorized, but Insycle also includes other custom classifications — Use Case, Priority, and Audience — to help you make the most of the Health Assessment.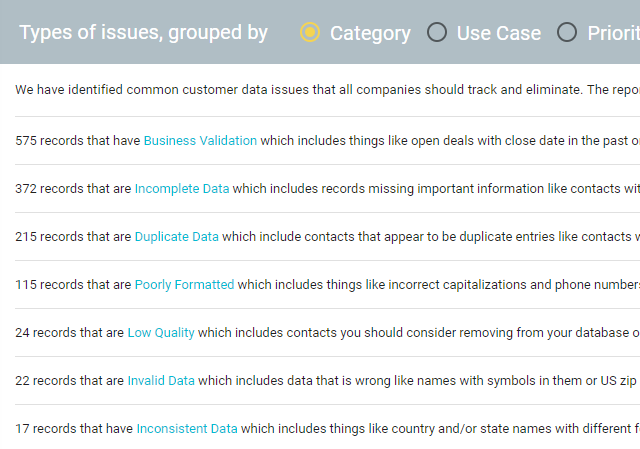 You can click on the linked categories on this list or simply scroll down the page. Here, you'll find the different categories, with many individual data issues being tracked in each category.
The Incomplete Data category is one that is excellent for surfacing purgeable data. The templates in this category track records that have critical fields missing. So for instance, in some digital-first companies, a contact that does not have an email address may not be a contact worth keeping in your system. Different fields may serve a similar purpose in different situations.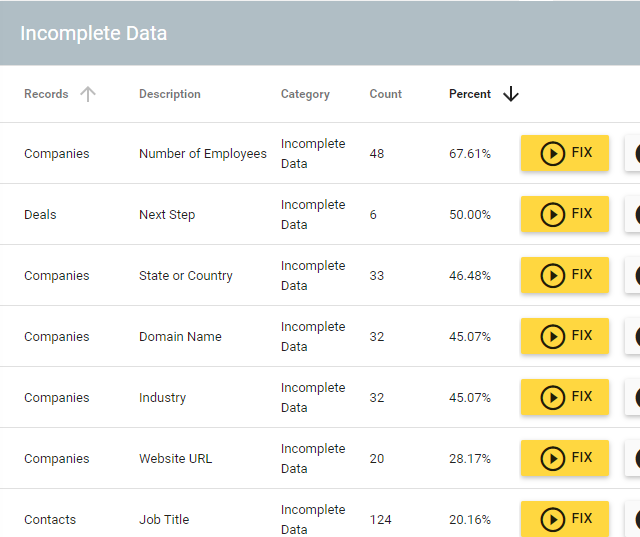 Another excellent category for identifying purgeable records is Invalid Data.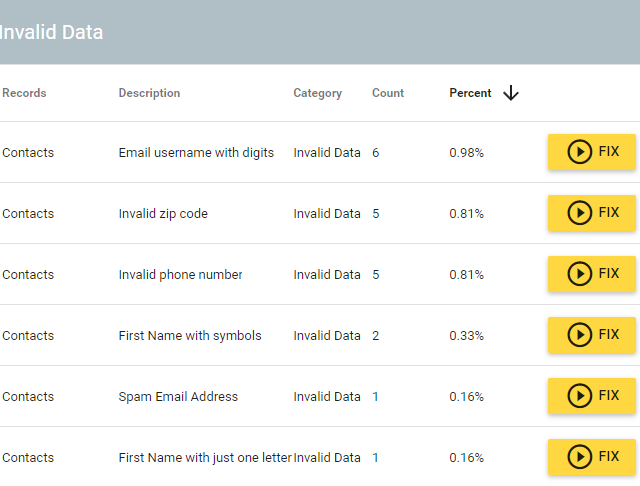 You can add any custom template that you create in any Insycle module to your Customer Data Health Assessment. To do this, toggle its inclusion to "on" in the template menu on the module page.
Now let's cover how to purge data from your database, in bulk and automatically, based on rules.
Step 1: Define Filter
To purge records from our database, we will use the Bulk Operations Module. Navigate there.
First, we have to select the record type — contacts, companies, deals, or comparable record type in your CRM — so that we can purge the correct records. This is set at the top of every module screen.
For the example in this article, we will be deleting contacts that do not have an email listed in the database.
In Step 1, we set our filter which helps allows you to identify these records.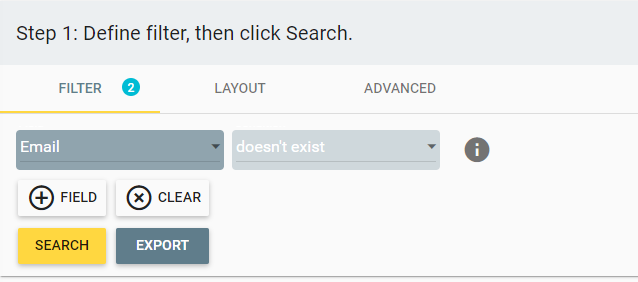 With this filter in place, all contacts without an email will be identified. By clicking the yellow "Search" button in Step 1, we'll be able to preview the contacts identified using this filter.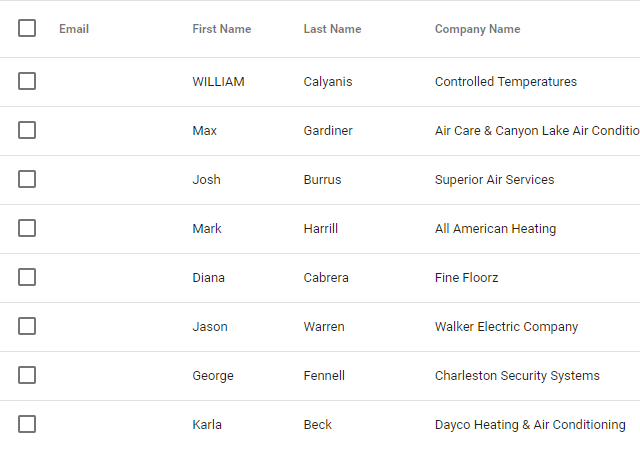 When you make changes to the filter, you will need to click the Search button again to reload this preview.
Step 2: Choose Delete and Configure
In Step 2, we delete these records. This is done easily, by selecting the Delete Tab from the Step 2 navigational menu.

There are no further configurations or settings in this tab, as we have already filtered the records that we would like to delete in Step 1.
However, remember that you can select individual records to delete from the Record Viewer at the bottom of the screen as well, as you may not want to delete all records.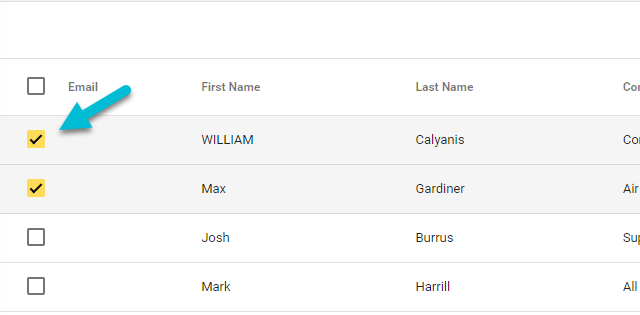 Step 3: Preview or Update
Now, with our Filter and delete Action in place, we can run the bulk operation to purge our selected records.
When running the Bulk Operation module and before purging data, especially the first time, it is a good idea to run in Preview Mode.
This allows you to view the changes to the data in a CSV file before the updates are pushed to your database. Here, you can check to make sure that everything is working as expected and make any necessary changes before pushing the updates to your live database.
You can do this by clicking the Review Button in Step 3.

A popup will appear. Here, in Stage 1: Mode, we can select the Preview Mode or Update Mode. In Preview Mode, would-be changes are reviewable in a CSV file, but your CRM database is not updated. If you choose Update mode, the data changes will go live in your CRM when the operation is processed.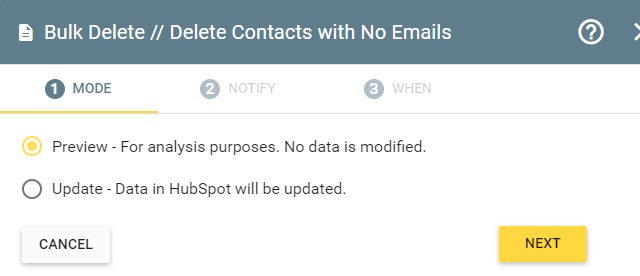 Then click the "Next" button.
In Step 2 of the Review process, you can choose where you send the generated report. Your email will automatically be added to the list but can add other co-workers and colleagues here if there are others that you would like to share with or notify.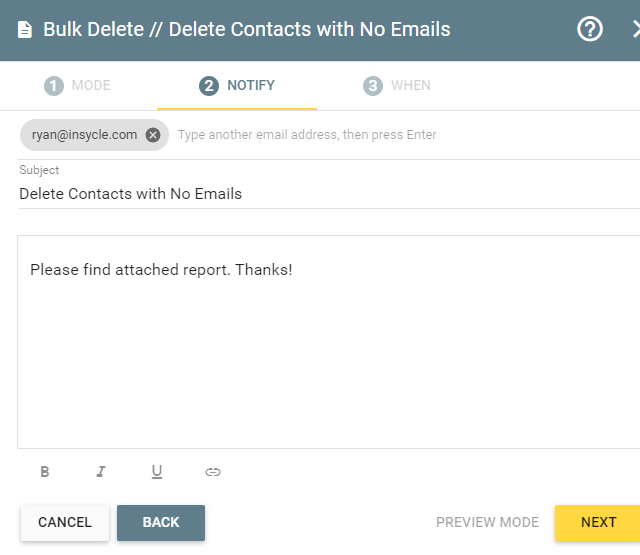 Once finished, click the "Next" button.
In Step 3, you can choose whether you would like this operation to run one time, or continuously.
There are two tabs on this screen — Automate and Run Now.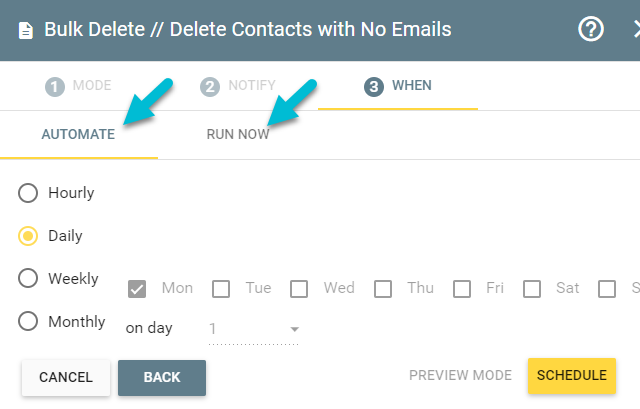 When you select the Run Now tab, you are choosing to run the delete operation one time, immediately. Here, you can choose the number of records that you would like to update with the operation. You can run it on the records selected from the Record Viewer, on a small chunk, or on all of the records that met the filter criteria.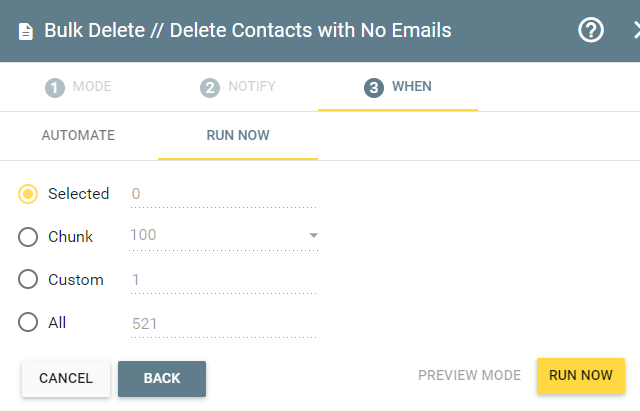 Alternatively, you can schedule this module to run on a set, recurring basis in the Automate tab.
Here, you can choose to schedule this operation to run hourly, daily, weekly, or monthly. When scheduled, the Module will automatically run on your desired schedule and email the reports after it has run. You can view all scheduled automations on the "Automations" page on your dashboard.
With numerous templates like this in place, you can ensure that you are consistently purging records that add no value and only serve to clutter up your database.
This same process can be used to purge other records. Some categories of records that you might consider purging include:
Contacts with undelivered emails
Invalid form inputs
Clearly fake data
Low quality data (such as business contacts with free emails)
Outdated and decayed records (last update before a certain point)
Incomplete records
Many more
After building numerous templates, you can string them together and run them in succession using Recipes, further automating your data purging.
Frequently Asked Questions
Can I restore deleted data?
No directly. You can access the deleted data in the Activity Tracker and re-import the partial records if needed.
How can I identify bad data to purge?
The Health Assessment tracks many types of invalid and low-quality data that make great candidates for purgeable data.
Preview Changes Before They Go Live
You can preview the changes that you are making to your data before those changes are pushed to your live database. When you run select modules in Insycle, you have the option of choosing between Preview Mode and Update Mode once you click the button.
Automation
You can set up ongoing data maintenance automation with Insycle on the module level, using Recipes, or integrating with Workflows. You can view all scheduled automations on the "Automations" page on your dashboard.
Audit Trail and History
The Activity Tracker lets you review all changes made through Insycle. At any time you can download a CSV report of the operation and records affected.
Additional Resources
Related Blog Articles
Related Help Articles
Additional Resources