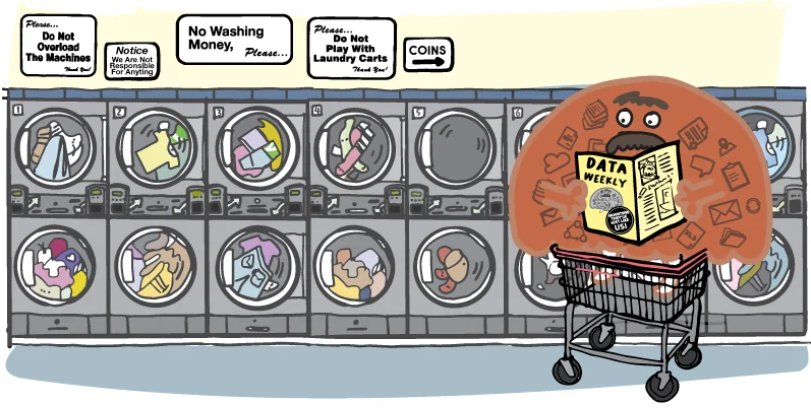 Modules are Insycle's data maintenance tools. A module may have a single primary task (Merge Duplicates) or dozens of potential use cases (Transform Data). Insycle offers eight different modules. The number of modules that you have access to is dependent on your chosen plan.
While not an exhaustive list, here is a simple breakdown of what each module does:
Merge Duplicates
With Insycle's Merge Duplicates module, you can identify and merge duplicate contacts, companies, and deals in flexible and powerful ways.
Duplicate records inhibit your marketing team from effectively segmenting and personalizing your communications. Sales teams step on each other's toes and lack vital context in conversations. Support teams miss important information, and analysis and reporting are skewed.
With the Merge Duplicates module, you can avoid these issues. Here's what happens when you deploy the module:
First, you tell Insycle how to identify duplicates using set rules. The example below matches duplicates by first name, last name, and email domain. You can use exact matching or similar matching, and any field in your database to match duplicates. This allows you to catch more duplicates than you would through standard CRM systems.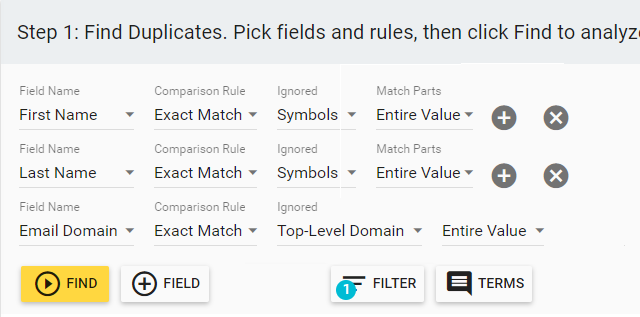 Then you set rules for determining the master record—the record that all other duplicate records are merged into. You can set rules such as the first record created, record with the most email opens, or any other relevant field.
You can set the master record at the record level, using rules: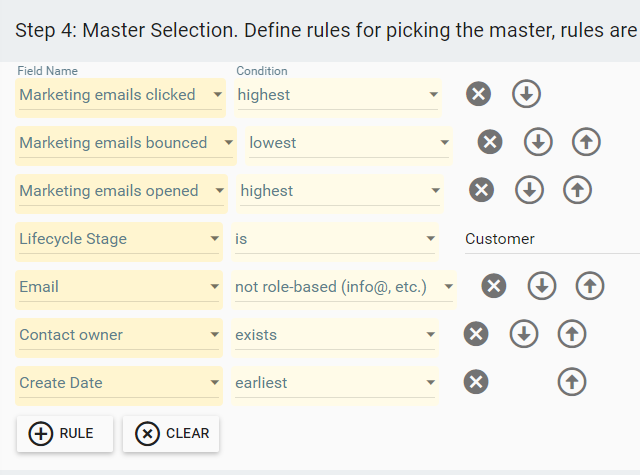 Or at the field level: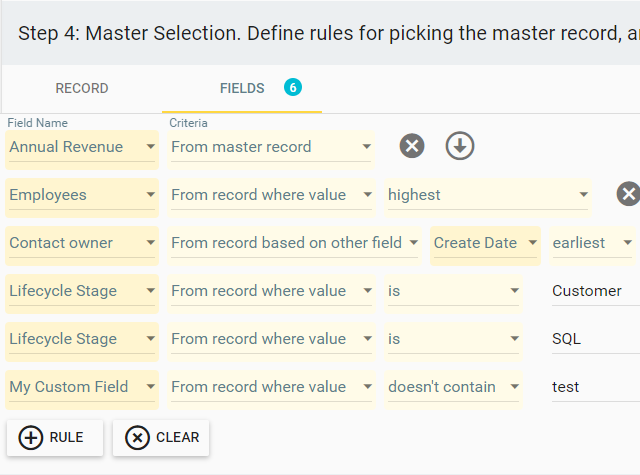 With Insycle's Merge Duplicates module, you can run deduplication processes in bulk, then automate the process using templates to keep your database free from duplicates at all times.
Learn More:
Merge Duplicates Module Overview
Transform Data
The Transform Data module offers ETL functionality, where you can perform a wide range of functions to help you filter and extract, transform, and load the data into your CRM.
Insycle offers unparalleled customization within the Transform Data module, allowing you to build custom rulesets for how you filter and identify data, extract or move that data, and transform that data—all before updating the data in your CRM. With Insycle, you can build a fully custom ETL solution.
Insycle's Transform Data module lets you do things like:
format names, phone numbers, and addresses

standardize job titles, industries, and locations

extract data from fields using flexible rules

remove invalid data and typos from fields

merge fields or move data between them
Insycle comes with many pre-built templates, which you can use as-is or as a basis for your own custom templates to solve data issues unique to your organization.
Learn More:
Transform Data Module Overview
How to Become a Customer Data Wizard Using the 'Transform Data' Tool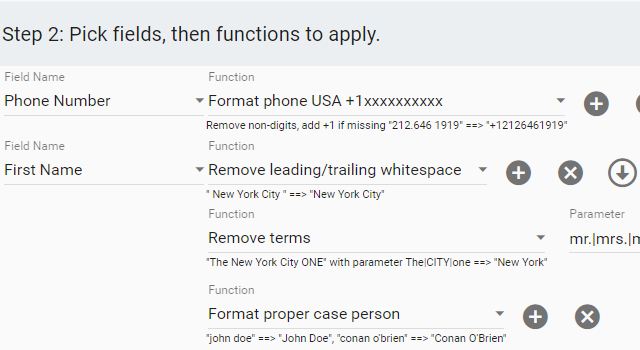 Magical Import
The Magical Import module allows you to import data flexibly and powerfully. You can deduplicate, cleanse, update, and standardize your data before importing it into your database. This not only ensures that critical customer data reaches your CRM, but that it is clean and tidy when it gets there.
With the Magical Import module, you can do the following while importing:
map fields and save templates for future mapping

create straightforward rules for when your data is updated, overwritten, or appended

compare data to existing HubSpot fields

deduplicate data while importing

cleanse data while importing

format and standardize while importing

view changes in the activity tracker at any time
Using Magical Import, you can create straightforward rules to determine when your data is updated, overwritten, or appended. You can also enforce data quality and consistency standards while importing new data with confidence.
Learn More:
Magical Import Module Overview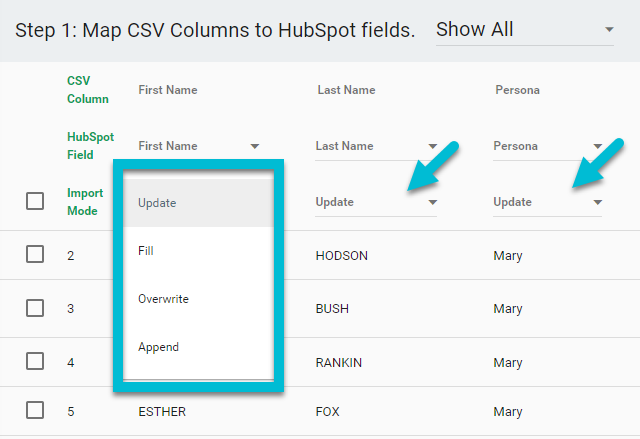 Bulk Operations
Data clutter and inconsistencies hurt productivity and harm the morale of your teams.
The Bulk Operations module helps you:
declutter your CRM

bulk-update data

link and associate companies

clear fields

bulk-delete records
If you are tired of updating by hand or creating complicated Excel formulas, Bulk Operations can help.
Using the module is simple. You filter your data using simple rules, then update the data in bulk. Insycle offers many default templates to help you do things like remove role-based emails, associate records using any field, and identify invalid phone numbers.
With the Bulk Operations module, you can run deduplication processes in bulk, then automate the process using templates to keep your data consistent and uncluttered on a regular schedule.
Learn More:
Bulk Operations Module Overview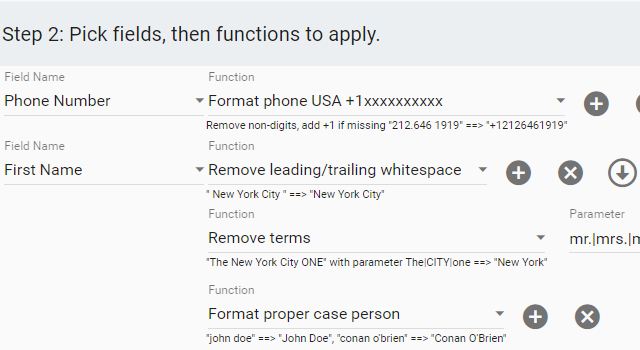 Cleanse Data
A huge piece of the data management puzzle is understanding what you have in your database and cleansing it so that it is uncluttered, formatted correctly, and standardized. But before you can begin fixing issues, you first have to identify what those issues are.
For instance, it is difficult to cleanse job titles when you aren't sure what variations you have in your database.
The Cleanse Data module makes it easy to drill down into specific fields to explore value variations and review them on a record-by-record level to better understand your data and spot opportunities for consolidation and standardization.
With the Cleanse Data module, you can explore your data, identify opportunities for standardization, update the data, and cleanse issues you identify.
It's simple. First, you tell Insycle which field you would like to explore.

This will generate a list of the existing data variations within the field.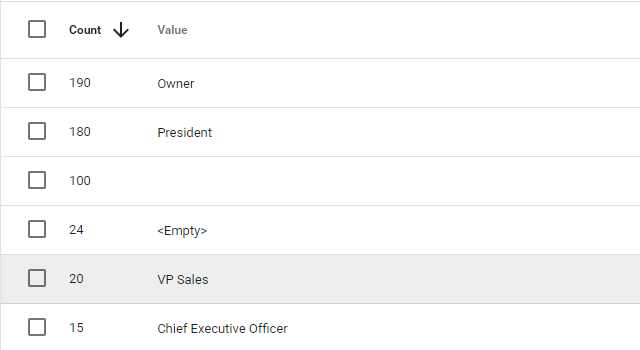 Then you identify all of the different variations that you would like to update within that field and update them using the Cleanse Data module.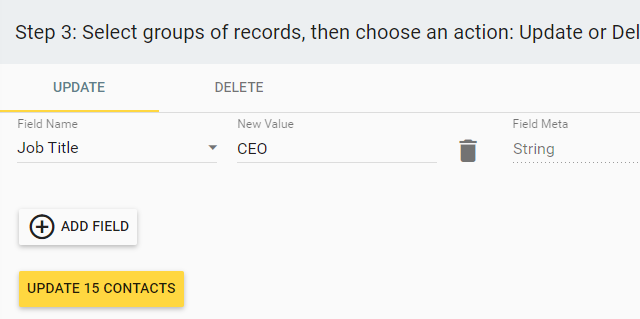 You can save all data cleansing settings using templates. With templates, future cleansing tasks will not need to be reconfigured, saving you time.
Learn More:
Cleanse Data Module Overview
Group & Update
Being able to effectively filter, group, and analyze your data is critical for reporting, data maintenance, and decision-making across your whole organization.
Insycle's Group & Update module makes it easy to drill down into your data to understand what you have in each field and analyze it. You can explore field values and unearth important stats, drill down into individual records, and generate reports.
It's simple. First, you select a field that you would like to analyze.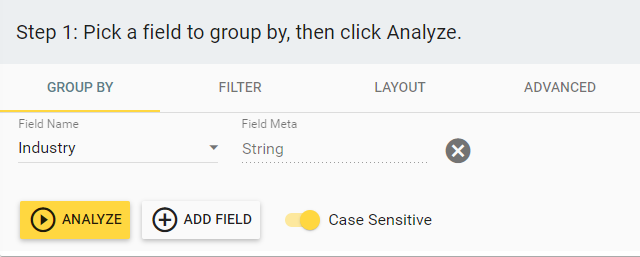 Insycle will generate a list of all values that are contained within that field and tell you how many times each specific value appears. Insycle may also provide additional stats depending on the field type.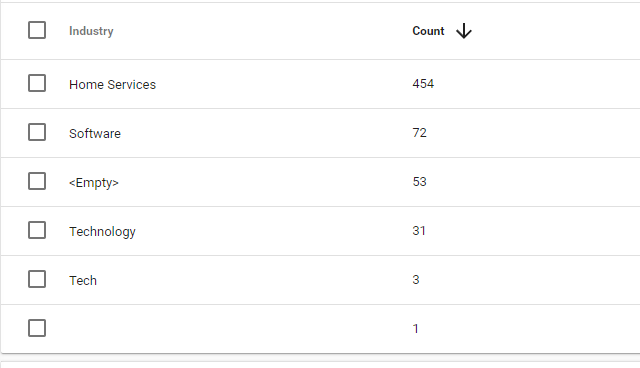 This gives you a top-down view of the values in each field while allowing you to drill down and view the underlying data.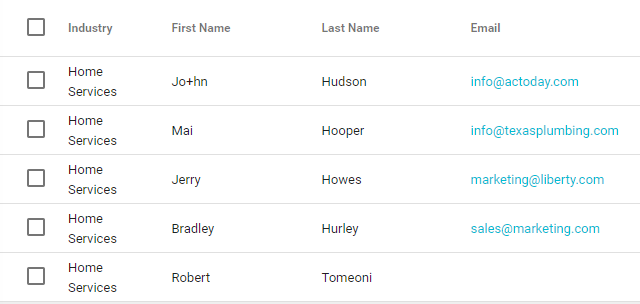 Then you can select individual records or entire buckets for updating in bulk.
Using the Group & Update module, you gain a deeper understanding of your data and generate valuable reports to help improve decision-making.
Learn More:
Group & Update Module Overview
Grid Edit
Updating your data can be difficult. Editing data inside of your CRM is often too time-consuming. Filtering data down to specific slices is difficult. Then when you update, you need to open individual records, find the correct field, and edit it every time that you need to make an update in your CRM.
The Grid Edit module allows you to filter and in-line edit data flexibly and powerfully. Being able to quickly edit and correct data for updates and fixes is critical to keeping your CRM data healthy.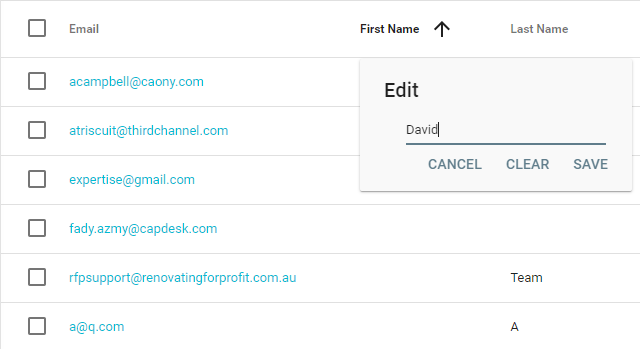 Additionally, Grid Edit also allows you to filter data and set up recurring exports of slices of data from within your CRM.
For example, you might want a regular export of high-value deals from your pipeline: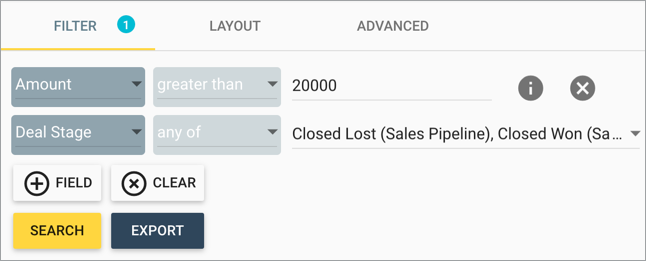 With Insycle's powerful Grid Edit module, editing, updating, and exporting data is simple.
Learn More:
Grid Edit Module Overview
Data Validation
Identifying records that are missing key fields is a critical step in the data enrichment process.
Insycle makes it easy to identify fields in your database that are missing critical data. You can do this once or on a recurring schedule so that you can always ensure that you are enriching the most important records in your database.
Using the Data Validation module, you can tell Insycle to look for records that are missing one or multiple fields. Next, you can take a complete look at all of the records and export them, or in-line edit them directly in the module.
Then, you can save your template. This will save you time on future data validation tasks, scheduled data checks, and automated exports for records that are missing fields.
Learn More:
Data Validation Module Overview

Additional Resources
Related Blog Articles
Related Help Articles
Additional Resources