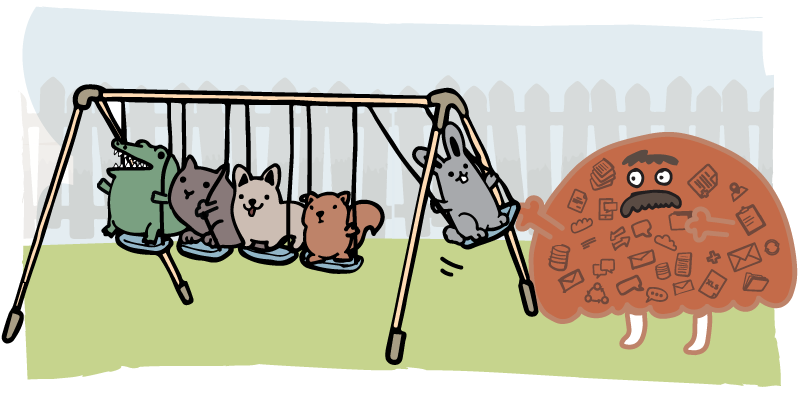 Collaboration is critical for CRM data maintenance. Often, your many data update tasks will be split among several team members. Insycle enables you to invite team members while retaining complete control over what data they can read and write on a module-by-module basis.
Inviting and adding users to Insycle is simple and completely free. All plans include unlimited users so you're welcome to invite everyone on your team to use Insycle.
Summary
All plans offer unlimited users. Insycle's pricing is based on the number of records in your database, not the number of users. Once a user is invited, they log in using their CRM account on the Login page, just like how you might use your Google account to log in to other websites.
Insycle makes it simple to invite team members to Insycle for collaboration. There are two methods for accessing Insycle.
First, you can invite team members on the Settings > Users page. There, you can also control permissions for all Insycle users.
Additionally, CRM users can sign into Insycle using single sign-on. When they access Insycle using this method, their CRM permissions are retained.
How to Invite Team Members
Insycle makes it simple to invite team members to Insycle.
To invite a member of your team, they must have an account in your CRM. They will use this account to log in to Insycle, similar to how you might use your Google account to log in to other websites.
Any team member that you add retains the underlying permissions assigned to them in your CRM. Insycle's permissions act as an extra layer of security on top of those permissions, and CRM permissions are not altered by your Insycle settings.
There are two ways for your team members to access Insycle—by being invited, or using Single Sign-On.
Inviting Team Members
Inviting team members through Insycle is simple.
First, navigate to the Settings > Users page, accessible on the left-hand navigational menu.
There you will find a list of all active Insycle users, along with additional information about each user.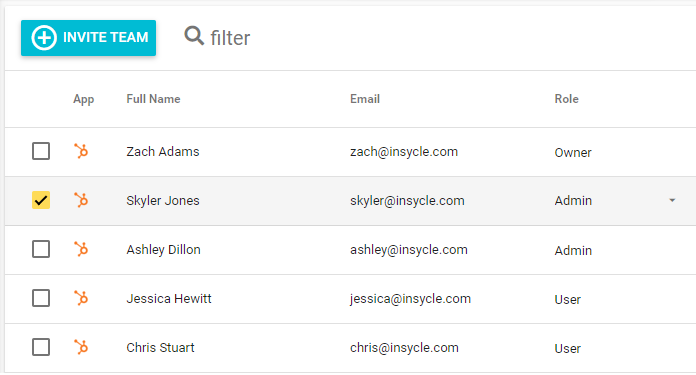 To invite new team members to Insycle, click the "Invite Team" button at the top of the page.


The Invite popup will appear. There, you'll be able to select individual users from your connected CRM account. To invite a user, they must already be added to your CRM.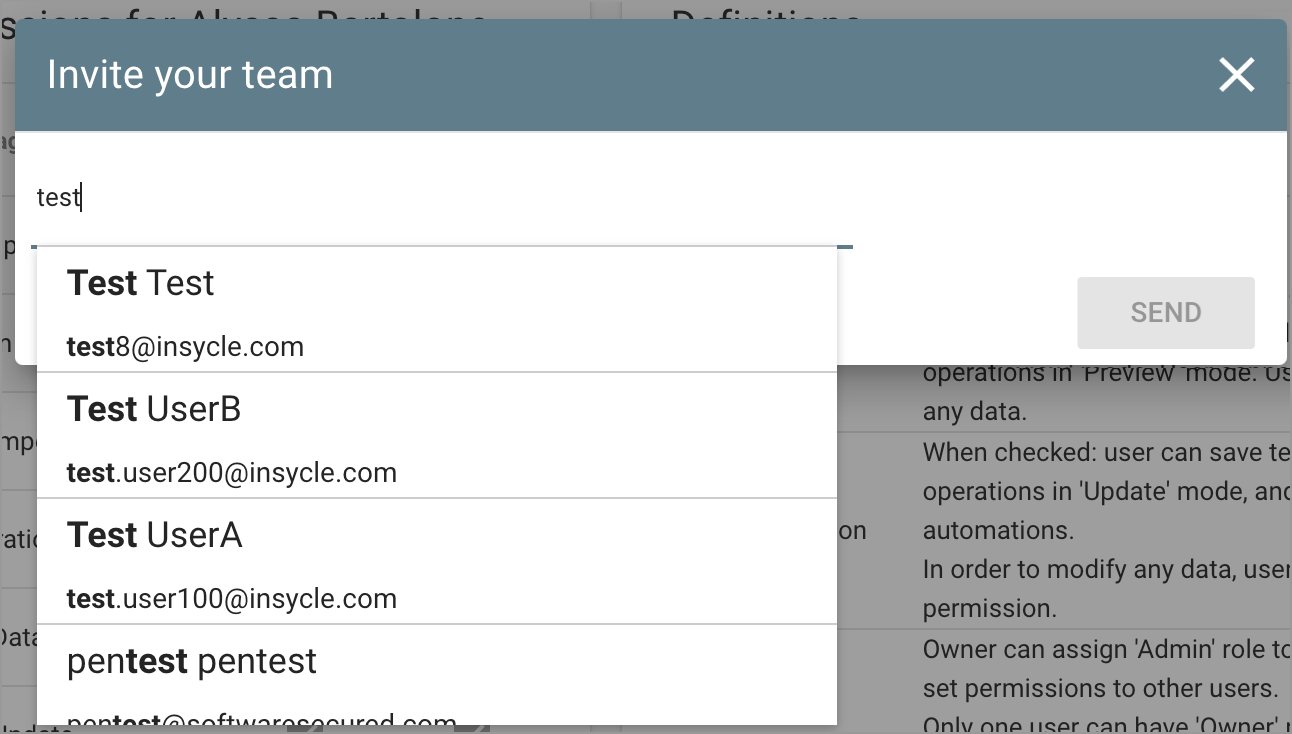 Once added, you can set their individual permissions and they will receive a Welcome email from Insycle.
Single Sign-On
Insycle users access the app using single sign-on.
For example, you may use your Google account to log in to websites around the web.
Insycle users login to Insycle using their HubSpot, Salesforce, Intercom, Mailchimp, Pipedrive, or other CRM accounts.
Your Insycle plan is tied to your CRM app account. That's how Insycle associates users to the right account. For example, for Salesforce, all users that belong to the same org ID are part of the same plan, for HubSpot, it works the same way based on the portal ID, etc.
To invite a user to Insycle, they first must have an account on your CRM app. Then they can use that account to log in.
To connect more apps to Insycle check out this Add and Remove Accounts Data article.
To login using Single Sign-On, go to the Login Page and select the login button for your integrated CRM.
Permissions
You can set permissions for individual users in Insycle.
Using Insycle's permissions, you can assign specific users' read and write capabilities on a module-by-module level. That way, if you want someone to only be able to work on one issue in your CRM—merging duplicates for example—they could be assigned both read and write access to just the Merge Duplicates module, ensuring that they don't accidentally make other changes to your data.
First, select the user that you would like to set permissions for.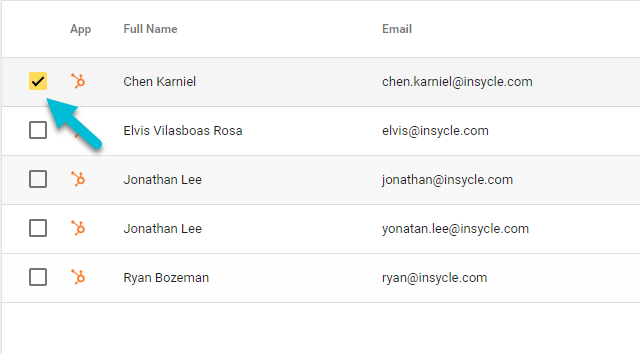 In the Permissions section below, you will see their permissions automatically load. You can update their permissions by selecting or de-selecting checkboxes.
How can I create a 'Shared' account for others to use?
Sometimes, Insycle customers want to create a "Master Account," like  "MarketingDepartment@domain.com" that they can share with teammates. But this is not necessary. Insycle offers unlimited users for every plan. Insycle uses single sign-on, which means that you log in to Insycle through your HubSpot, Salesforce, Pipedrive, Intercom, or other CRM account.
Anyone that has an account inside of your CRM can be invited to use Insycle free of charge. Invitees can log in through the Login page.
Additionally, you can set permissions for each individual user, and track any changes made by individual users. This functionality is lost with a shared account.
To learn more see, User Roles and Permissions.
Additional Resources
Related Blog Articles
Related Help Docs
Additional Resources