Data maintenance and analysis is often a team effort. Between all of your fields, with dozens of potential error types in each field, across every record in your database, data fixes and updates are usually too much for a single person to handle.
Often, data collaboration isn't limited to a single department either. Every person who interfaces with your CRM data has specific use cases, priorities, and fields that they use. This means that each department has its own priorities for data maintenance. Making collaboration simple is critical to ensuring that these tasks are completed.
Insycle makes it easy for teams to manage and share their data maintenance, updates, and collaborative tasks.
Summary
Insycle facilitates collaboration with your team members on data management and analysis tasks.
First, Insycle allows you to add unlimited team members to your Insycle account at no extra cost. You can expand your team on-demand, as needed. Then, you can share any template in any module, just by copying and pasting the URL from your address bar.
You can also share data update reports and automated exports with any person—whether they are an Insycle user, part of your company, or a third-party partner.
Unlimited Users At No Extra Cost
Insycle has no limits on the number of users that can be added to any account. You can always invite a new team member to join Insycle. Plan pricing is tied to the number of records in your database, not the number of users that you invite.
Inviting team members through Insycle is simple.
First, navigate to the Settings>Users page, accessible on the left-hand navigational menu. There you will find a list of all active Insycle users, along with additional information about each user.

To invite new team members to Insycle, click the "Invite Team" button at the top of the page.

The Invite popup will appear. There, you'll be able to select individual users from your connected CRM account. To invite a user, they must already be added to your CRM. They will use their CRM account to login to Insycle, just like you might use your Google account to login to websites around the web.

Once added, you can set their individual permissions and they will receive a Welcome email from Insycle.
Insycle uses Single Sign-On and plans are tied to the underlying app account, which Insycle uses to identify new users of your account. For example, for Salesforce, all users that belong to the same organization ID are part of the same plan. HubSpot works the same way based on the portal ID, as do other platforms.
To learn about connecting more apps to Insycle, check out the Add and Remove Accounts Data article.
Linkable Templates
Templates are the fuel that powers Insycle. Templates power every data maintenance task that you handle within Insycle.
For example, here is a template for extracting a company name from a website URL using the Transform Data module.

To share this template, you can simply copy and paste the URL from the URL bar of your browser. When opened, the template will automatically open for anyone with an Insycle account.
This is helpful for sharing critical data maintenance templates with team members and training team members on your data management processes.
Easily Sharable Reports With Added Context
Not only can you share templates, but you can also share reports from any data update operation run within Insycle.
When you run a module, you have the ability to share the generated report with any email address that you choose, whether they are an Insycle user, a member of your organization, or an outside, third-party contributor.
When you run most modules, you'll be presented with a three-step screen that allows you to set up your report and schedule the operation.
Here, you can add additional emails that you would like to receive the report, as well as provide any additional relevant context that they may need.

With easily shared reports, you can ensure that you keep the right people in the loop, always.
All data update tasks are viewable at any time through the Activity Tracker.
Automated Exports
With Insycle, you aren't just limited to sharing data update reports, you can also share customized exported data as well.
You can use this to keep an eye on specific subsets of your data (for example, deals above a certain size), or filter your data down for analysis or manual data updates (for example, exporting records that do not have a first name for data updates).
To set up automated exports, you can use the Grid Edit tool.
First, you set your filter. In this example, we will be using the "Missing or Invalid First Name" template, to identify all records without a value in the First Name field.
Here is what the filter looks like:

To set up the export, you click the Export button. You'll be directed to a three-step process. First, you can choose whether you would like the export to be in a New File or an existing file.
Then you can set the email notification for the export. You can share exported data with anyone, whether they are Insycle users, part of your organization, or part of a partnered organization. You can also provide additional context for recipients on this screen.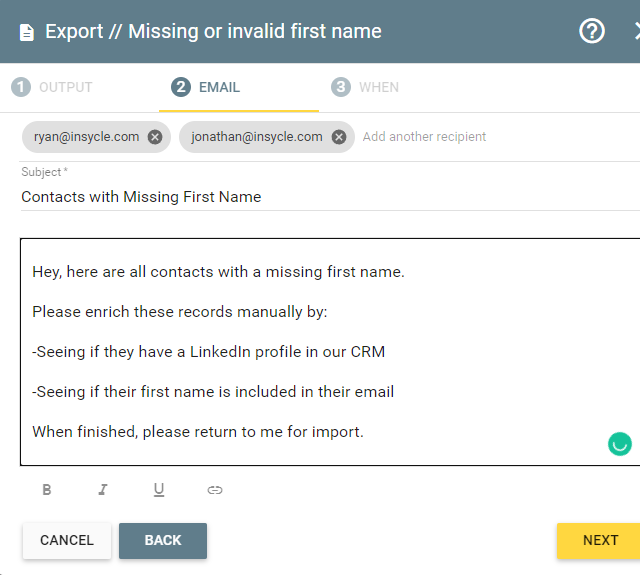 Then, on the third step, you can schedule the export to happen one-time immediately using the Run Now tab, or automatically on a set schedule using the Automate tab.

You can schedule the export to run on an hourly, daily, weekly, or monthly basis.
This is ideal for regular analysis or data updates, based on the pre-defined rules that you set in your filter. With automated exports in place, you can ensure the correct members of your team receive the data that they need, exactly when they need it, cutting out manual management processes.
Preview Changes Before They Go Live
You can preview the changes that you are making to your data before those changes are pushed to your live database. When you run select modules in Insycle, you have the option of choosing between Preview Mode and Update Mode once you click the button.
Automation
You can set up ongoing data maintenance automation with Insycle on the module level, using Recipes, or integrating with Workflows. You can view all scheduled automations on the "Automations" page on your dashboard.
Audit Trail and History
The Activity Tracker lets you review all changes made through Insycle. At any time you can download a CSV report of the operation and records affected.
Additional Resources
Related Blog Articles
Related Help Articles
Additional Resources