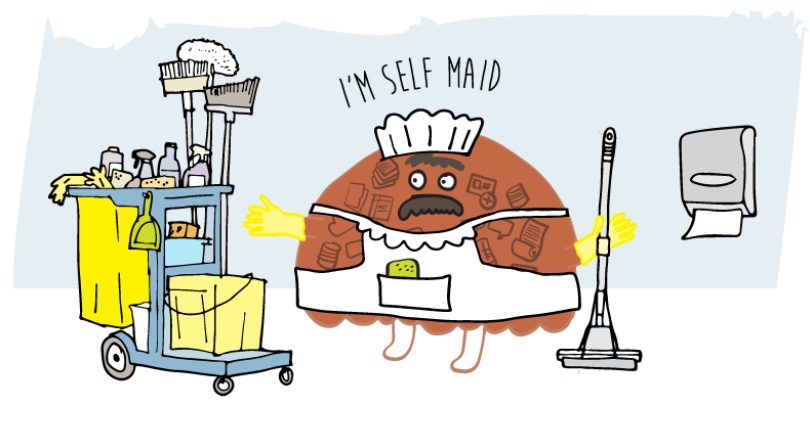 Raising the bar for data quality in your CRM starts with knowing what you do or don't have in your database. For instance, identifying records that are missing key fields is a critical step in the data enrichment process.
Insycle makes it easy to identify fields in your database that are missing critical data on a one-time basis or on a recurring set schedule so that you can always ensure that you are enriching the most important records in your database.
Let's explore how this works.
Summary
Insycle makes it easy to identify records with missing data.
Using the Data Validation module, you tell Insycle to look for records that are missing one or multiple fields. Insycle will allow you to take a complete look at all of the records and export them, or in-line edit them directly in the Data Validation module.
Then, you can save your template to save you time on future data validation tasks or even schedule regular checks and automated exports for records that are missing fields.
Step 1: Select Fields
Navigate to the Data Validation module and select the data object that we will be validating—contacts, companies, deals, or custom objects.
Here, we will select the fields that we want to validate and identify records that are missing the field in question.

You can select one of Insycle's default templates, or build your own from scratch.
When selecting multiple fields, you are identifying records that are missing either field. So they could be missing just a first name, or just a last name, or both.
Click the Analyze button and the Record Viewer below will display records that meet your specifications.
You can also in-line edit records directly on this screen by clicking over a record's field and clicking on the pencil icon.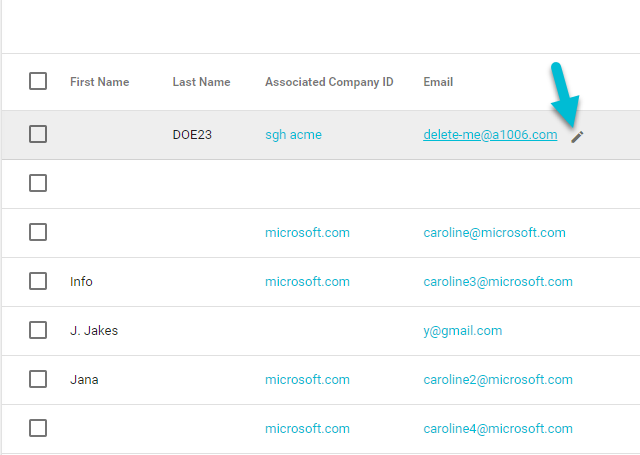 By selecting the Layout tab, you can change the fields that are visible here in the Record Viewer.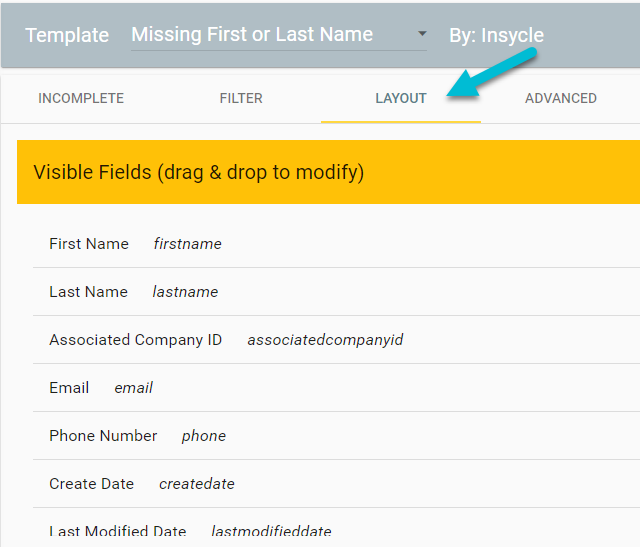 You can also filter your data further using the Filter tab. For instance, we could filter our results by country, limiting the number of records for this particular task.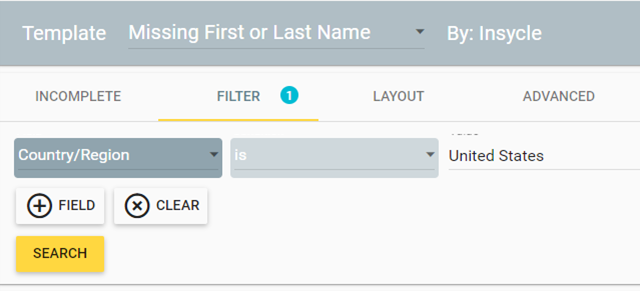 Step 2: Export Once or On a Recurring Basis
With the right fields selected, you can now export the records that are missing data in those fields, one-time or on a recurring basis.
To set up data validation exports, just click the Export button.

When you click, you'll first be asked to select if the export will be in a new file or an existing file. Most often, you will choose "New File."
Then click "Next." In the second screen, you can set up your notification emails that will come with the export. Here you can add additional recipients and context.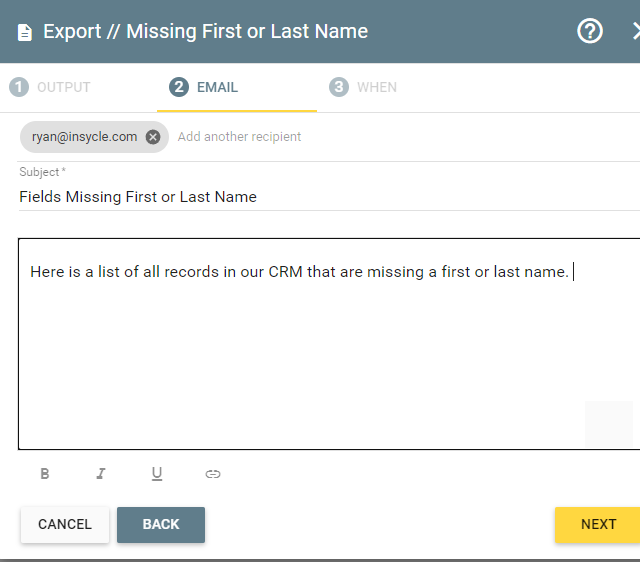 When finished, click "Next." Now you are at the screen where you can choose to run the export once immediately, or on a recurring schedule.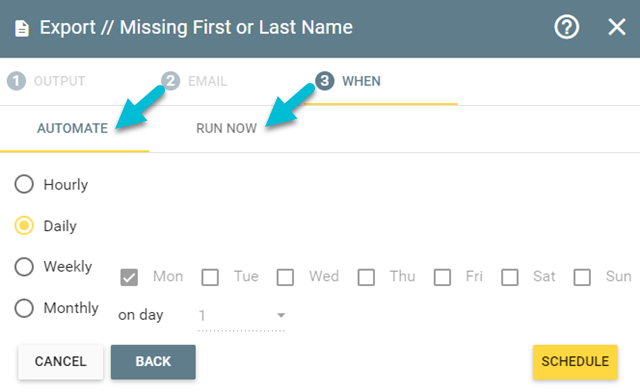 You can schedule data validation exports to run on an hourly, daily, weekly, or monthly basis.
All settings here can also be saved in a Template so that you can run this operation again in the future.
To create a Template, click the Add Template Button (+) to give your template a name, then click the Save Button to save it for future use.

Automation
You can set up ongoing data maintenance automation with Insycle on the module level, using Recipes, or integrating with Workflows. You can view all scheduled automations on the "Automations" page on your dashboard.
Audit Trail and History
The Activity Tracker lets you review all changes made through Insycle. At any time you can download a CSV report of the operation and records affected.
Additional Resources
Related Blog Articles
Related Help Articles
Additional Resources